Making the decision to euthanize your pet can be very difficult. Once you have made the decision, Heavenly Paws provides you the option of in-home euthanasia. Many pets may not like to travel to the veterinary office and for some, the trip may be difficult due to mobility issues. By sending a licensed veterinarian to your home, we can help you at this difficult time. You will be able to say goodbye to your companion in the comfort of your own home surrounded by loved ones.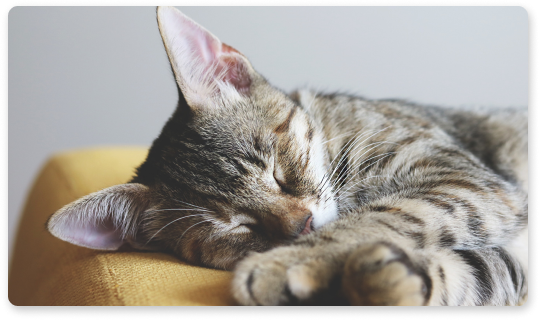 Euthanasia FAQ's
What can I expect during the appointment?
Our veterinarian will meet you and your pet and perform a very short, non-invasive exam. They will then provide your pet with an injection to ease any anxiety and make them comfortable. The injection is similar to getting a vaccine. The appointments are an hour long and the veterinarian will explain the entire process to you and your family and answer any questions you may have. You are encouraged to be next to your pet to comfort and speak to them. Once you and your family are ready, the veterinarian will administer the euthanasia solution.
How do I know when it is time?
The decision to say goodbye is not an easy one. Some people say "you will know when it is time," but that isn't always true. Our pets can have good days and bad days and it's not always clear if they are suffering. We recommend using a quality-of-life scale to help make a decision. You can use the scale on multiple days over a period time. We have provided the Ohio State University Quality of Life Scale below.
Please consult with your regular veterinarian when you think your pet is nearing their end-of-life. We also provide virtual end-of-life consultations if you feel you are need of a second opinion
Why would I choose In-Home Euthanasia?
There are many reasons you may choose in-home euthanasia. Your pet may be less anxious at home. Maybe they have difficulty with their mobility and getting in and out of a vehicle is not as easy as it once was. You may choose to have multiple family members present and your vet office may not be able to accommodate many people comfortably. You might want to spend time with your pet after their passing and would rather be at your home.
How should I prepare for the appointment?
When you are ready to schedule your appointment, please fill out our client registration form. Once you have submitted your form, our customer service representative will reach out to you to set up an appointment and collect payment within 1 business day. Please remember that if you have an emergency or need assistance immediately, please contact your regular veterinarian or an urgent care or emergency facility if it's after hours.
Once your appointment is scheduled, we will call you the day before to answer any questions and assist in making after care arrangements. You may want to select a special spot indoors or outdoors for the time of the appointment. Maybe your pet has favorite bed or place to rest. You may want to have their favorite blanket or toys present. You can have special treats or snack to give them before the appointment
What if my pet is aggressive towards strangers?
If your pet has been aggressive to strangers or the veterinarian in the past, please let us know. There are a couple things we can do to prepare ahead of time and make the experience easier for you and your pet. Our veterinarian can give additional anxiety medication prior to administering the sedative or you can contact your own veterinarian and ask them if they can prescribe an oral sedative or anxiety medication prior to your appointment.
Please note, if you have made the decision to euthanize your young pet due to behavioral issues, we ask that you seek guidance from your primary veterinarian. Our veterinarian will not have the information and/or enough history about your pet in order to perform the euthanasia
What will happen after the appointment?
We will send a field representative from Heavenly Paws and provide dignified transport of your pet's remains. We will follow through with your final wishes for your pet's remains and deliver the remains back to your house
Within 26-50 miles
$ 550*
Within 51-75 miles
$ 600*
Within 76-100 miles
$ 650*
Euthanasia at Heavenly Paws
$ 350*
Virtual End-of-Life Consultation
*Mileage is calculated using the Heavenly Paws address in New Braunfels.
Client Registration Form
Please complete and submit this form if you would like more information or would like to schedule an appointment. A customer service representative will reach out to you within 1 business day.